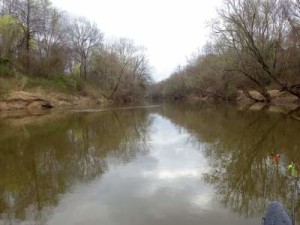 Had a chance to get out on a much needed and very relaxing late March canoe trip down Virginia's Pamunkey River.
We managed to catch a ton of fish. Once we figured out the pattern and started giving them what they wanted, we just couldn't keep the fish out of the boat. They literally would jump out of the water after the baits. One nearly made it into the canoe!
We were using little pink and chartreuse crappie baits rigged up like a beetle spin. I always pack these beetle spins along, everything that swims seems will go for one.
I have been practicing throwing these things with my fly rod. I saw really little beetle spin type flies not too long ago when visiting family. I just might try this combo out on my next outing if I can make it work.
My area does not have a fly-fishing store and it sorely needs one!
My tally was six different kinds of fish, — largemouth bass, smallmouth bass, spotted bass, crappie, catfish, and even a shad. Each and every one of these fish were released back into the water from which they came.
Oh yeah, the weather was okay, at least it was on the warmer side. Had to deal with some rain, but hardly noticed because the fishing was awesome!!! <= note the three exclamation points.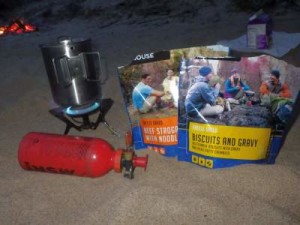 I did bring along some single serving freeze dried food pouches. The Biscuits and Gravy and Beef Stroganoff for one breakfast, and another Biscuits and Gravy and some Beef Stew for the second breakfast.
The remaining meals were cooked over nice little campfire. Not every meal needs to be a lightweight and easy to prepare outdoor feast. Not even for a hardcore travel-light kind of person. I wanted to just relax and enjoy the nice spring weather.
You know how spring weather tends to go, warm and sunny one day, snowy and cold the next.
The scenery was awesome, saw and heard a lot of critters. Saw a beaver as big a large German Shepherd. The thing was huge! He let us know that we were not welcome here on his part of the river. He gave us the stink eye and a loud tail slap before diving down and swimming away.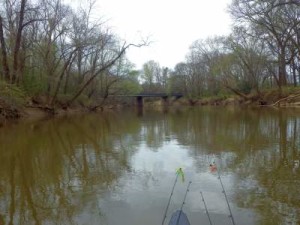 Had a lot of problems with those little black flies swarming around. Next time, I want to have one of those head nets! I managed by keeping my raincoat hood on, that made it a bit more manageable.
We knocked out close to 23 miles over the weekend and had a grand time.
Click here to see a complete list of the best freeze dried food reviews. Those items I have tried and used in my outdoor experiences.