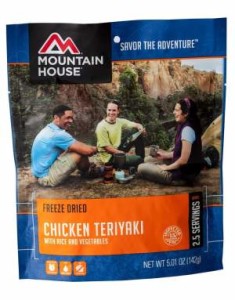 Today, I am reviewing the Mountain House Chicken Teriyaki with Rice 2.5 serving pouch. I picked this one up at my local Bass Pro a while back for somewhere round $10.00 or so. You can pick these up on Amazon for less, but I was on the way out of town for a fishing and camping trip and needed a few extras.
Lots of folks complain about the cost of these freeze dried meals. A burger, fries, and a drink from the place down the street comes close that $10.00 mark.
Optionally, you could stuff a few heavy cans of something for each and every meal and get away for a few bucks less I suppose!?
My thoughts are that this is just a much better option! Empty Mountain House food pouches just fold up and take very little space. I can put my empty food pouches into a large zip lock bag, — no mess.
Be sure to check out the Best Freeze Dried Food FAQ for more tips.
When I think about the big picture, the convenience of having a lighter load, less volume, a smaller backpack, I am going with what I know works!
For what I do, the best freeze dried food for camping and just-in-case meals must be convenient, easy to prepare, and last a long time.
You can also find the chicken teriyaki with rice in a 2 serving pouch, the "Pro-Pak." I opt for the one with the extra half a serving. It seems like I am always have a heartier appetite when I am outdoors doing stuff.
Preparation and Tips
The package directions on the back of the Mountain House Chicken Teriyaki with Rice recommends adding 2 cups boiling water. I think this is a bit too much. I start with about 1 3/4 cup or 14 ounces from my water bottle into my metal camping mug for boiling.
I can always add a tad bit more if needed, but usually I don't need to.
I do recommend that you try this at home first using the very same equipment used when out camping. Why? It is better to figure out and work through any problems at home first.
With any of these Mountain House products, the optional stirring at the 4 minute mark is recommended to ensure everything gets mixed well. I also recommend letting the pouch sit a minute or 3 longer than the package directions call for. Doing so will help ensure everything is evenly rehydrated.
Taste and Texture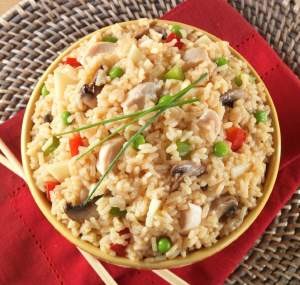 Having a long handled spoon helps to keep your hands clean and out of the bag.
Check out my review of the Optimus long handled spoon here.
Overall, the taste is pretty good, I think it tastes like chicken teriyaki should! It might not be quite like what you get from the takeout place from down the street, but I am guessing they don't deliver out in the middle of the woods either!
I would say that this could use a bit more chicken and veggies added to the mix, but that is my preference. The bamboo shoots are pretty tasty, I would like to see more those also.
I like my food a bit more on the spicy side, so bringing along some extra soy sauce or hot sauce condiment packets is always in the plan. Some crushed red pepper flakes would also be a good addition.
Click here to see Mountain House Chicken Teriyaki with Rice pricing, ratings, and reviews on Amazon.com
Mountain House Chicken Teriyaki with Rice Review Rating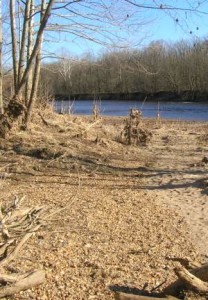 No complaints with this one. In my view, this is a keeper! Consider picking one up to try out in your backyard. I usually have an assortment of Mountain House freeze dried meals in my camping supply box so I am prepared for the next trip.
Because I think that it could use a bit more chicken and veggies, I am going with giving this one a rating of 4.5 stars.