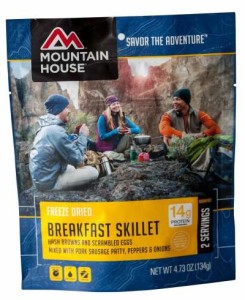 The Mountain House Breakfast Skillet is another freeze dried multipurpose mealtime idea for your next camping adventure. Today I am reviewing the 2-serving pouch that I picked up several months ago.
This 2 serving pouch makes about 2 cups of food if you follow the package directions. In practice, I get a bit less than that, read on and see why!
Opening the pouch, you will see not only a good amount of hash browns, but you will see chunks of eggs, pork sausage, onions and peppers. I think that Mountain House should add some freeze dried jalapenos to the mix, but that is just my own opinion!
In this particular package, I had to hunt around for the oxygen absorber packet. It must have settled to the bottom during shipping or when it was stored away in my emergency food pantry.
While taste and texture certainly ranks at the top of the list of what I am looking for. Convenience and ease of preparation is something we don't always think about, –you know, the overall practicality of freeze dried food.
Preparation and Tips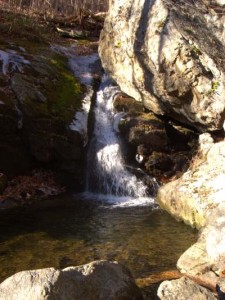 If this is your first experience with the Mountain House Breakfast Skillet, consider making it at home using the very same camping equipment used out on the trail. I always recommend doing this. You will figure out what works and doesn't.
A good number of Amazon customer reviews suggest adding less water than the package contents direct. I agree, if you are trying the 2 serving pouch, try adding 1 1/4 cups of boiling water instead of the 1 1/2 cups the directions call for.
You can always add a bit more water if that is your preference, but you can't take it out afterwards. Making this at home before you hit the trail lets you adjust the end result to your liking.
Consider the optional stir as noted on the package directions. I never have problems with dry pockets of food when I do this and neither should you.
The 2 serving pouch recommends 8 to 9 minutes for rehydration. I always let mine sit a few minutes longer to make sure everything gets a chance to absorb that hot water.
Some mealtime options to consider, –the Mountain House Breakfast Skillet makes for some awesome breakfast burritos!
You might add some salsa or hot sauce packets to the mix as well. I always pack along a number of the single serving hot sauce packets I get from the fast food places. Adding some crush red pepper flakes will take this up a notch as well. Basically, just add what you like.
Yes, I do add my own pickled jalapenos to the mix.
Taste and Texture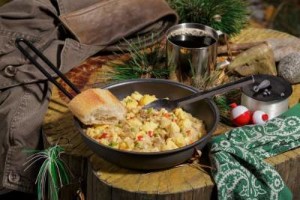 Whether you scoop this out of the pouch or whip up a batch of breakfast, lunch, or dinnertime burritos, I think you will find this a worthy addition to your menu.
I think this tastes like a breakfast skillet should. When I add less water, the texture is spot on. No, its not going to look or taste exactly like that diner down the street or like what you might whip up at home. But, it does taste pretty darned good as you watch the sun rise over the trees out on the trail!
Click here to see pricing, ratings, and reviews on Amazon.com

The Mountain House Breakfast Skillet Review Rating
This is another favorite of mine and I think it will be one of yours as well. Besides the freeze dried convenience, the Mountain House Breakfast Skillet is just a downright tasty option for any meal.
I am giving this one a 5 star rating. Pick up one of these and try it out, I think you will agree!