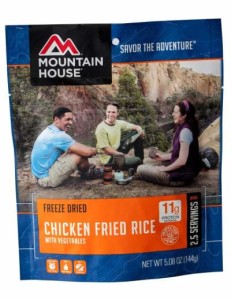 The Mountain House Chicken Fried Rice is this week's product review here on The Best Freeze Dried Food Guide website. This is some good eats straight from the pouch or as a canvas for jazzing it up anyway you please!
One of the reasons we all like freeze dried food is that it provides variety to the otherwise same old boring thing that a lot of folks seem to always bring on their outdoor adventures. You know what I am talking about, — a heavy can or two of pasta or beef stew, or maybe a few packages of ramen. And that is just for one meal. Consider doing that for 3 or 4 meals per day. That adds up to some serious backpack weight. A few miles down the trail and you just might reconsider that decision.
Like a lot of folks, I am very conscious about the weight of my pack and what I put into it! My solution? Freeze dried food pouches!
Mountain House Chicken Fried Rice is a heck of a nice alternative to lugging along those heavy cans or having a big mug of ramen that doesn't stick around with me all that long. At the end of the journey, those empty freeze dried food pouches are easy enough to pack out, unlike a pile of those messy and bulky empty cans.
Preparation and Tips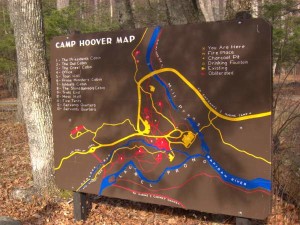 I really like the Mountain House Chicken Fried Rice not only for its taste, but is versatility. You can easily jazz this up anyway you want. Want it Indian style, add some curry. In the mood for a southwest experience, add some Mexican spices and a few packets of salsa!
I think that Mountain House is spot on for the amount of water called for in the directions on the package. So nothing special here to remember! This 2.5 serving pouch makes about 2 1/2 cups of breakfast, lunch, or dinner, just enough for one hungry camper in my opinion.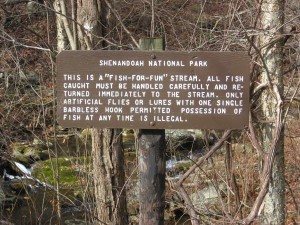 My recommendation, if you're trying this for the first time, make this at home before trying it on the trail someplace. Use the very same camp stove and cookware to see what works and what doesn't.
Be sure to check out the Best Freeze Dried Food FAQ for more tips.
With most Mountain House freeze dried food products, I recommend the optional stirring half way through. Also let these sit and rehydrate a bit longer than what is on the package directions.
Taste and Texture
Some Amazon customer reviewers thought that the taste was fairly generic. My belief is that anywhere you go, any restaurant, any prepackaged meal, is created for that generic taste preference, — what most people seem to prefer.
When I open the pouch there is a good mix of peas, carrots, peppers, eggs, chicken, and mushrooms mixed in. My own preference would be to have just a bit more chicken, but that might just be me?
This rice is just like the rice in other Mountain House freeze dried food offerings. It is not mushy or overcooked, nor is this like the fried rice from the takeout place down you go down the street. Some Amazon reviews commented that this is more like a risotto and I would tend to agree with that account.
When eating this from the pouch, consider adding a few packets of soy sauce for some of that added "umami" experience.
The Mountain House Chicken Fried Rice also makes a good filling for breakfast tortillas. Add a bit of hot sauce and a packet or two of crushed red pepper flakes, — yum!
Click here to see Mountain House Chicken Fried Rice pricing, ratings, and reviews on Amazon.com
The Mountain House Chicken Fried Rice Review Rating
I think that the folks over at Mountain House hit another one out of the park with their Chicken Fried Rice. In my opinion, this 2.5 serving pouch is enough for one hungry hiker.
Nearly 200 Amazon customer reviews agree that this is some pretty good eats when you're outside doing stuff. So I am giving this my best freeze dried food rating of 5 out of 5. Don't forget to pack along some of those optional condiment packets to bring this to the next level.
With the 10 plus year shelf life, the Mountain House Chicken Fried Rice also makes a good addition to the emergency rations in your survival pantry or emergency food stash.