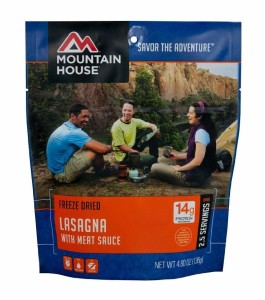 This review is on the Mountain House Lasagna with Meat Sauce 2.5 serving pouch. It was part of an order a while back from Amazon, even got free shipping, --on Amazon Prime for only $6.99.
Mountain House offers 3 other sizes of their freeze dried lasagna on Amazon, the pro-pak at 2 servings, the family size at 5 servings, and a #10 can at 10 servings. Each serving come in at about 1 cup of rehydrated food.
In my opinion, I think that this Mountain House freeze dried lasagna with meat sauce is another top contender in my unofficial "camping comfort food" category.
Preparation and Tips
Lots of Amazon customer reviews recommend adding a bit less water than what the package directions call for. I agree with these comments and find that the recommended amount makes for a loose and somewhat soupy mix. You can always add a bit more hot water if you want, but you can't take it out once it's in there!
As always, I recommend the optional stirring of the contents mid-way though. You might consider using a chopstick, they come 2 to a package and weigh nearly nothing. Optionally, a long handled spoon like the one I reviewed here really helps keep the hands clean when digging around that pouch when you get towards the bottom.
Let the pouch sit for a bit longer than the 8 to 9 minutes as described on the back of the package. Doing so will make sure that all of the noodles are rehydrated, --nothing crunchy remaining.
Taste and Texture
I think this stuff tastes pretty darned good. It tastes a lot better than the canned stuff, and better than some restaurant versions.
When prepared as I have described, the overall consistency is like that popular Hamburger Helper version. There are nice bits of hamburger and tomato pieces, and the noodles are not overdone.
The cheese is stringy as it should be in a lasagna. Just a note that it will harden up making a difficult clean up if you're not quick on the cleanup. Leave the spork in the backpack and use a spoon for an easier time of it.
But, as usual, I just about always doctor up everything with a bit of added hot sauce and crushed red chili flakes. Some extra Italian seasoning wouldn't hurt either.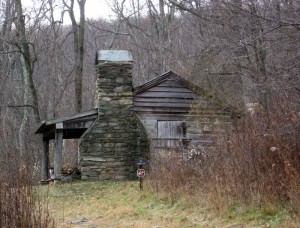 When I am outdoors doing stuff it seems like I lean towards the bigger bolder flavors.
The only thing I could use would be a nice big piece of freeze dried garlic bread to go with this! Hear that Mountain House? Another great product idea and tip from the "Best Freeze Dried Food Guide" website!
Click here to see pricing, ratings, and reviews on Amazon.com
Bottom Line Review
It is hard to find something not to like about this meal. The taste is good, the texture for this lasagna is what I think it should be, --camping comfort food. I get the 2.5 serving packages, and it's just the right amount for one person. The pouch is engineered to not have any hard to reach corners, so you can get all of those small bits and pieces, --leaving nothing left!
This is hands down way better than lugging along several of those heavy canned versions along in your backpack. The convenience of a freeze dried, easy to prepare, easy to manage food choice for me is well worth that seemingly extra cost. In other words, as my parents say, you get what you pay for!
So at $6.99 for the 2.5 serving pouch, I agree with the nearly 200 customer reviews and giving the Mountain House lasagna with meat sauce my own 5 star rating. Try some for on your next outdoor adventure, for your emergency bug out bag, or part of the survival stash in the trunk of your car.